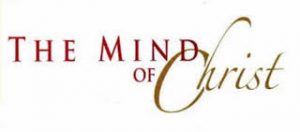 Let this mind be in you which was also in Christ Jesus. Phil. 2:5
Welcome Church, It is my prayer today that you are walking strong in the ways of the Lord.   Since coming into this month, here at Christ's Chapel, we have been looking to the word of God with the preaching series, 'The Mind of Christ'.   As the series opened, we examined the call through the Apostle Paul to the church of Rome, 'I beseech you therefore, brethren, by the mercies of God, that you present your bodies a living sacrifice, holy, acceptable to God, which is your reasonable service. And do not be conformed to this world, but be transformed by the renewing of your mind, that you may prove what is that good and acceptable and perfect will of God (Ro 12:1-2)
It is here that every child of God is warned to take note to that which is molding the mind.  Throughout our everyday, whether by the multitude of media platforms, personal conversations, news, movies, books, podcasts or even billboards, the mind is being influenced. Some influence for the good, and some for that which is directly against the word of God.  God's word from Romans 1 is reminding that in your walk with Him, you are called to reject – turn away from – the things of the world (that which is evil, sinful, not of God) and turn to that which is holy and acceptable unto Him.  We further see in this word that God is calling each of us, that as we submit to the ways of God, to guard the mind, that we not be conformed (changed) to the influence of the world, but to be transformed by the renewing of your mind… in order that you may prove (be a witness) what is good and acceptable and (the) perfect will of God!
Be encouraged! Having the mind (the will, the way of thinking, the reasoning) of Christ begins as you reach out to Him in faith. In Him, He will change how you perceive & how you reason throughout your ever day.  This transformation is needed for every man, woman and child. As you make Christ the Lord of your life, by the power of His word (as you learn of Him), through the influence of the Holy Spirit, it is promised that 'old things shall pass away and that all things become new' (2Cor 5).  A walk that is in the likeness of Christ can be yours today!!
Join with us the Sunday for the continuation of the series The Mind of Christ.
3018 E. Lincoln Hwy
Parkesburg, PA 19365
610-857-2357
10:30 AM Sunday 
Pastors Simeon & Marissa Strauser
We Look Forward to Seeing You
Bring Family and Friends